Against everything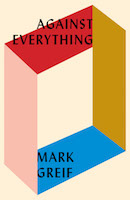 Mark Greif
Ed.
Verso
Date de publication :
26/08/2016
Against Everything is a thought-provoking study and essential guide to the vicissitudes of everyday life under twenty-first-century capitalism.
Mark Greif is one of the most exciting writers of his generation. In this invigorating collection, he challenges us to rethink the ordinary world and take life seriously – in short, to stay honest in dishonest times. In a series of coruscating set pieces he asks why we put ourselves through the pains of exercise, what our concerns about diet or sex does for our fundamental worth, what political identity the hipster might possess, and what happens to us when we listen to Radiohead or hip-hop.
Counter-intuitive and revelatory in his insights, Greif revels in the contradictions arising between our desires and the excuses we make to console ourselves. His work demands we have the courage to be 'against everything', to change our vantage on everyday life, find it wanting and demand something better. (présentation de l'éditeur)