Lake success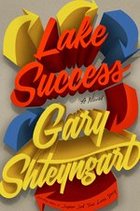 Gary Shteyngart
Ed.
Penguin
Date de publication :
14/09/2018
Barry Cohen, master of the universe, has just had a very public meltdown involving a dinner party, an insider trading investigation and a $30,000 bottle of Japanese whisky. So he flees New York City, leaving behind his beautiful young wife and son, but remembering to bring his six favourite designer watches. Zig-zagging south through Trump's America on a Greyhound Bus pilgrimmage he is singularly unprepared for, Barry heads to Texas - to find his old college girlfriend and, with her, a second chance at life . . .
Lake Success marries the trademark Shteyngart wit with a deep emotional resonance, capturing the vivid eccentricity and contradictions of America right now, while speaking to the universal human experience of love, belonging, and the pursuit of happiness.