Black paper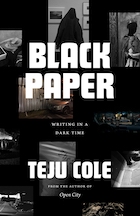 Teju Cole
Ed.
University of Chicago Press
Date de publication :
03/01/2022
"Darkness is not empty," writes Teju Cole in Black Paper, a book that meditates on what it means to sustain our humanity—and witness the humanity of others—in a time of darkness. One of the most celebrated essayists of his generation, Cole here plays variations on the essay form, modeling ways to attend to experience—not just to take in but to think critically about what we sense and what we don't.
Wide-ranging but thematically unified, the essays address ethical questions about what it means to be human and what it means to bear witness, recognizing how our individual present is informed by a collective past. Cole's writings in Black Paper approach the fractured moment of our history through a constellation of interrelated concerns: confrontation with unsettling art, elegies both public and private, the defense of writing in a time of political upheaval, the role of the color black in the visual arts, the use of shadow in photography, and the links between literature and activism. Throughout, Cole gives us intriguing new ways of thinking about blackness and its numerous connotations. As he describes the carbon-copy process in his epilogue: "Writing on the top white sheet would transfer the carbon from the black paper onto the bottom white sheet. Black transported the meaning."